Read-A-Thon
is hosting a Read-A-Thon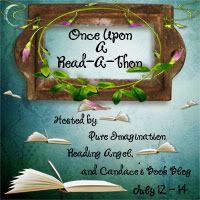 found out about it on Proud Book Nerd! Thanks for sharing
I have never done one.
So I hope to participate.
This is going to be hard as the Read-A-Thon is Mon, Tues, Wed
I work Mon plus have a workout/training session
I work Tues and Mr has the night off
I also work Wed and have another workout/training session.
BUT
I hope to read the following
(I already started it, but want to finish)
and I want to start a new series...
Maybe if I finish the above book in time I will read this one
That's one book a day.
Fingers crossed I can do it!
Happy Reading!