Firebug by Lish McBride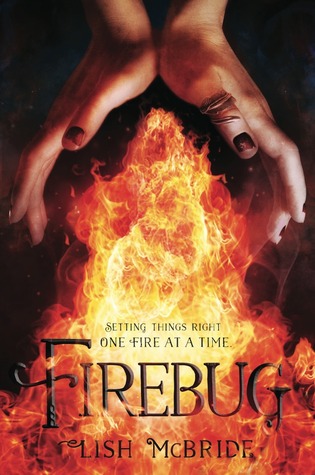 Release Date: September 23 2014
Publisher: Macmillan Children's Publishing Group
Received from: NetGalley
Rating: 5
Cover Thoughts: Perfect!
Review: I enjoyed this book. I enjoyed almost every aspect and the aspects I didn't enjoy I don't even remember because there was lots of good stuff.
Cade - OOOH so happy with that one!
Lock - while she didn't handle this properly I am really glad it worked out the way it did. It was nice not having the love interest or a triangle. Lock is a beautiful character and definite Boyfriend Material for Ava but it was nice she did go that route. I except in book two it will be different but it really worked for this book.
Ezra - LOVE LOVE him. He's adorable and I like that no one could share a bed with him because his abs were just to hot to not touch. I love that he had a full personality and I can just picture him bouncing on his toes.
Sylvie - hope she comes back. She says my favorite sentence in the book!

He only pouts like this when you did something. Stop making him sad, Ava! I hate it when he's sad. I tried to show him pictures of kittens on the Internet, but he said that didn't work for him, so I tried to switch to otters, because c'mon, otters, they're like the kittens of the sea, but he just looked at me like I was a crazy person, so I showed him my list-"
"List?" Sometimes Sylvie talks so fast, there aren't any spaces between her words.
"The one where I compare kittens and otters. It's a good list. There are illustrations and infographics."
Is that not the best sentence ever???
:) Happy Reading!