Wither by Lauren DeStefano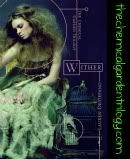 Chemical Garden's Book 1
Published March 22 2011
I don't remember the first time I heard about this book. In fact I didn't even do a Waiting on Wednesday post about it. Which is strange because I swear I have been waiting for this book since December. I have been waiting so hard for this book that I was scared to read it, as I was worried I would be let down because of how much I built up for the book. Does that make sense?
Then it became my turn to host book club. What else should I choose but a book that I have been dying to read and share it with a bunch of fantastic girls! Book Club is next Friday and I am lending out my copy to another gal who won't make it that night so I decided it was time to read.
AND well... after all that build up. The book was sooo good! I thoroughly enjoyed it. It had some things I definitely didn't expect and WOW now I have to wait for Book 2!
I love the lines in the book. You can watch the trailer below to see what I mean
So my thoughts.
Jenna - to live with that pain and knowledge. She is so very strong. I don't think Rhine could have done all she had without Jenna's strength
Rowan - I want to know more... I hope that there will be a book release of his side of the story and what happens to him when Rhine disappears
Linden - how can one have so much innocence? Is he just that blind to things? How does he not know? Does he find out later... I don't understand how he could just accept it all
Cecily - to just give oneself up that quickly and easily is horrible especially at such a young age. How can she allow herself to be put through that. Does she become strong in the end because of everything or does she give up completely.
Rose - what really happens to her?
Gabriel and Rhine - what happens next...
Not much of a review but I really just wanted to ramble away. Let me know if you've read the book!! I'd love to discuss with whoever wants to!